The news is outside filming The Little Pantry That Could as it struggles to chug along. The camera man doesn't come inside. He stays on the other side of the street.
Stacy Downey pokes her head out, shrinking away from the cold, and waves me in. She quickly shuts the door behind me.
"Somebody has put this on the news," she says, frantically shaking her head.
Since the news broke about her pantry facing an expiring lease, Stacy has gotten hundreds of phone calls from people who "had a childhood friend who probably has money, and maybe she should reach out to them." Or people who tell her that she doesn't have enough faith to keep her pantry alive. Just believe harder.
Stacy wears the overwhelm on her shoulders, casting her head down, nose to the grindstone. She has been trying to save her food pantry for over a year and has listened to "no" after "no" after "please take our building, but keep your homeless folk out of here." "We don't want anyone breaking into our cars or harassing our women."
I look around. A family lives here. A kind, brokenhearted, joyful, devastated, "I'll do anything to help you because someone first helped me" sort of family.
Stacy shows me around the place. The pantry is an old schoolhouse building, formerly condemned, with new floors laid over where squatters slept and new drywall installed around a singed frame where fires were lit in the cold.
"I talked them into giving me a five-year lease if I did all the renovations," Stacy explained. "So, we put about $300,000 into the building."
A new fire lives in the walls now.
She shows me where her homeless neighbors can come in, stick their clothes in the washer, and rejuvenate their souls with a hot shower; where she has hairstylists, manicurists, and doctors volunteer their services; where 50 people have slept when the outside temperatures are too cold to bear.
"It's not just a food pantry. It's a family in here. It's a way of living," said Rose, who works the front desk.
The pantry's lease ends in May. Stacy plans to close her doors on March 31 to prepare.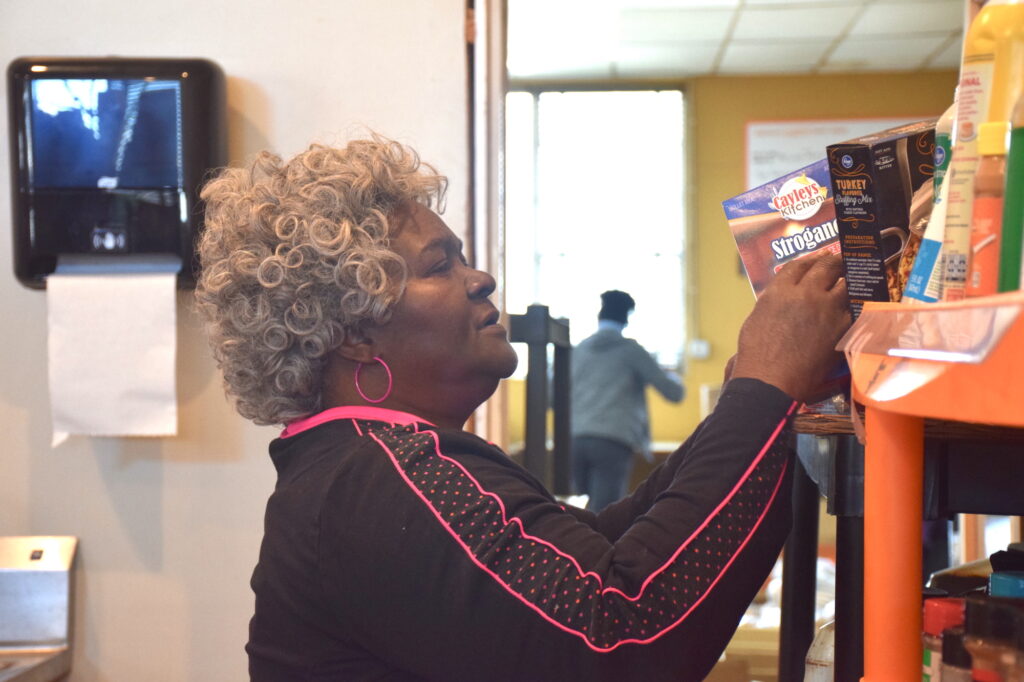 "Without this place here, there's going to be a lot of people hurting," said Mary. "This is the only pantry here in North Nashville that is like this. Period."
Mary is beloved at the pantry for many reasons, but her cooking is certainly somewhere around the top. Biscuits, ham, teriyaki chicken, you name it.
She met Stacy a few years back, when she was sleeping in her car. She was homeless for two years due to a mistake with public housing, and Stacy helped her regain a home. Mary said through tears that, if it weren't for Stacy, she would probably be gone.
"Thank God for people like her to help people like me."
For Mary, The Little Pantry That Could has always been more than a place to get food and take a shower during times of struggle. It's a place to talk, to be in community, to have the most unique needs met. Mary had an eye injury as an infant and has a hard time focusing on small text. She brings her mail to the pantry sometimes to get help reading it.
"I love it here. This is like a safe haven to me," she said. "When I come here, I feel safe and protected, and I'm amongst friends."
But the pantry is slipping away. Like winter into spring. Stacy is tired from clinging to it, but what else is there to do?
Her voice flutters between proudly showing off the fruits of 12 years of labor and softly sliding into past tense, as if the shelves of food and whirring washing machines are already ghosts of a memory.
She says what people just don't understand is that she's tried everything. She's explored vacant buildings, inquired with businesses and nonprofits, cut corners to save money, talked to the city. But she can't afford to rent or buy. Period.
She would need a building in North Nashville, at least 6,000 square feet that could support freezers and coolers and souls in need of a little help. And it would have to be free.
She's knocked on the doors of churches — different churches from the one that wants to sell her building. She's hoped for a gift and come up empty. That hope is smoldering now.
"Please don't mistake that there is anybody who is more invested in this than me. But in the next week, I have to start the dissolution process," Stacy says.
At this point, she said, she just can't ride the hope train anymore. She has to take care of her people. She has to prepare them for what happens if she closes her doors.
A lot of pressure to hold in one body.
"I want to think maybe something is gonna come along," said Rose. "God don't like ugliness, and this place right here is some of God's work. And I can't understand this."
______
The Little Pantry That Could is one of One Generation Away's partners. If you have a building for Stacy, contact Chris Whitney at chris@onegenaway.com. To support The Little Pantry That Could through March, visit ​​thelittlepantrythatcould.org/donate.